DECEMBER 11, 2011
Out now! More information here.

- dave 8cylinder

DECEMBER 30, 2010
The new Thac0 Records shirts are finished. They are $10 a piece. Shirts can be ordered by email or purchased directly from me in person. Design is by Paul Biundo.
Be sure to check out the new Thac0 Records sub-label, Unmapped North. Unmapped North will be focusing on small run 10" releases.
- dave 8cylinder

OCTOBER 1, 2009
The end of days is here.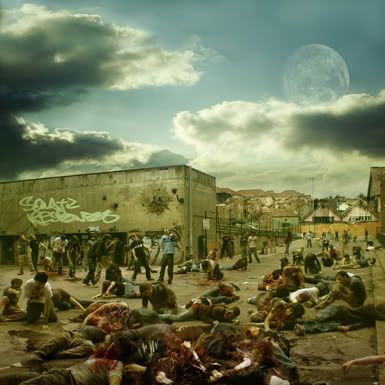 To order copies of Zombie Apocalypse from Somatic Responses, contact 8cylinder@rhinoplex.org.
- dave 8cylinder

MAY 18, 2008
Sound the alarms: this is done and shipping to stores. More information here.


Retribution from Prometheus Burning is available for purchase online at Wrecked Distro.
- dave 8cylinder

JUNE 05, 2007
Out now! More information here.


Xanopticon's Alembic is available for purchase online at Wrecked Distro in the USA, Ad Noiseam in Germany, DSWAT in the UK, and Toolbox in France.
It is also available for purchase in the Pittsburgh area at Paul's CDs, Brave New World, and Eide's Entertainment.
- dave 8cylinder

DECEMBER 27, 2005
At long last...


...is finished and available for order. Check out the releases page for the low down on this terrifying beast.
All North American distribution is handled by Wrecked Distro (contact Cutups at wrecked@rhinoplex.org). Contact me at 8cylinder@rhinoplex.org for all other orders.
- dave 8cylinder

NOVEMBER 02, 2005
The first Thac0 Records release, Jagoff Uprising, is almost a year late, but the final pieces of this colossal artifact are finally coming together. The records are at the pressing plant, the last CD is getting worked on by the finest sound engineer that canned food can buy, and the boxes are slowly being screenprinted and assembled in the secret Thac0 factory annex. Nothing short of the hammer of god can stop us now. The December 2005 release date is all but guaranteed at this point.
To everyone in and around the Pittsburgh area: expect an enormous release party sometime during your holiday vacation. Some combination of the Pittsburgh stalwarts Xanopticon, Prometheus Burning, Syne Lapse Variate, Shatterbreak, and Ovulus will be dusting off their gold-plated laptops and feasting on your entrails for the evening. Check back later for more details.
- dave 8cylinder
&nbsp